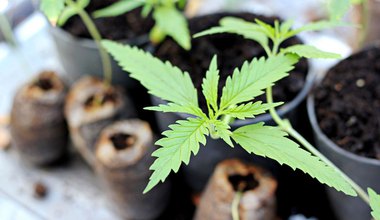 Learning About the Business of Bud in America's Highest Incorporated Town
While budtender Mark "Buddy" Buddemeyer answers the phone, I check out the Dube Tubes, Zig Zag rolling papers, Cheech and Chong lighters, Clear Eyes drops, and other impulse-buy items near the register at Alma, Colorado's High Country Healing II. A mason jar, which could be part of any county fair's peach canning collection, holds buds of "Grape Ape," the marijuana strain that took second place at the 2010 Aspen Cannabis Cup.
"If you're going for recreational, you can't buy clones, but if you're medical, you can," Buddy informs the caller.
Meanwhile, Bec Koop, another budtender, goes through the pot product line with an older white-haired customer in a North Face puffy jacket and a faded red beanie. He squints while checking out a particular offering.
"This is a fluffier bud," Bec explains. "Your mind and body will be on the same pace."
Eric Mills, a budtender and grower, sits in the back of the shop near a mini-fridge, eating a meal out of a red canvas Eddie Bauer lunchbox. Perched on his head is an LED "green" headlamp. Earlier, with a garden hose coiled over his shoulder, Eric had emerged from the growing room, which emanates a sort of Poltergeist "don't-go-into-the-light" glow when the door is opened. Buddy had asked him to check the "ressie" levels (reservoir water levels of the soil-less growing containers).
The growing numbers
High Country Healing II (HCH2) grows more than 1,000 plants onsite for both the shop's medical and recreational marijuana operations. Business has been steady with an average of 30-40 customers stopping in daily.
However, January 1, or "Green Wednesday," the day when Colorado recreational marijuana shops opened, HCH2 saw more than 100 customers. While this was not the volume of people that Denver recreational shops experienced, with upwards of 400 customers and lines circling around city blocks in some cases, HCH2's numbers are impressive, considering the population of Alma is under 300.
It's high in Alma.
It's hard not to read marijuana meaning into every store name, sign, and slogan in the small Colorado mountain town. A wooden sign that claims: "Historic Alma: North America's HIGHEST incorporated town" greets you as you drive in (and "highest" really is displayed in all caps). Along the main drag, you'll see "The Highest Boutique in America," the "Highest Saloon in the USA," and the local liquor store recommends that you "Grab some Buds." Depending on the season, you may also see posters encouraging to you attend the 17th annual Festival in the Clouds.
For the most part, this language is inspired by the town's elevation of 10,578 feet, but if any place is made for legitimate marijuana sales, it's Alma. Rumored to be a tolerant place where aging hippies have been growing weed for years, the former mining town's zip code is even 80420.
It's legal and on video.
"It's always been a green friendly town," Buddy says when I ask him about Alma's marijuana mystique. "It's just always been some little secret."
There are no secrets anymore, however, now that everything is legal and on video. At HCH2, strategically placed cameras film the budtenders daily. The footage, which is required of all recreational shops and medical dispensaries, is made accessible to Colorado's Marijuana Enforcement Division (MED) so agents can monitor activities.
"Everything is tracked on the computer all the time," Buddy explains. "The security system is on par with the Vegas gaming industry."
I hesitate to take pictures of HCH2's products and décor, but Buddy is unfazed. A laid back, affable guy, he poses for a photo next to the vintage record player on which they play music from the vast vinyl collection shelved in the waiting room. At the moment, however, a relentless, hypnotic techno song thumps in the store's speakers and has been playing for at least 10 minutes. Although I haven't consumed anything, I feel like lying down on the waiting room's red velvet loveseat, which looks like it came from a bordello's Wild West yard sale.
"So, have you guys been featured in High Times?" I ask, seeing several copies displayed, and a poster recognizing the 25th anniversary of the High Times Amsterdam Cannabis Cup hanging on the wall.
"Yeah, actually we have," Buddy nods.
"That's cool. When I was working for a budget travel guide on Europe, updating the Netherlands chapter in Amsterdam, I actually met Aran, the 'Cannabis King,'" I tell Buddy. "He was the High Times Cannabis Cup winner like four years in a row. Well, back in the mid-'90s."
"Oh, Arjan?" he says.
"Yeah, Arjan, I mean. Yeah that's his name." I feel my face reddening.
Who is a typical cannabis customer?
The bell on the door interrupts the techno and my failed attempt at being cool. A young Gothish woman with short spiked black hair, heavy black eyeliner, and a matching leather jacket walks in the shop. She looks straight ahead at the counter. Buddy greets and cards her.
"I need to see your ID."
"Good. How are you?" the Goth Girl begins and then shakes her head. "I mean, yeah, sure."
Buddy laughs good-naturedly at her flustered mistake. Handing him her driver's license, Goth Girl lightens up. While they talk about basic information, I scan the pot and hash options on the dry-erase board — among the menu items: "Buddha's Sister," "Blue Widow HP," "Super Lemon Haze," "OG Kush," and "Train Wreck."
In particular, I look for "Black Afghani," my old nemesis from a night out in Amsterdam in 1989. After taking way too many hits of the hi-grade hash, I tried to synchronize my heartbeat to a band's drumbeats during a concert at the Melkweg, a popular music venue. After I passed out on the people in front of me, my less stoned and anxious college friends dragged me out into the Melkweg's cement entryway and dumped water on my face.
Buddy sends Goth Girl to the back to chat with Bec, and I wonder how old he was in 1989 — probably in the same age range that motivated MED to require the new opaque childproof bud containers and packaging.
"What's the average age of your customers?" I ask.
"A lot of them are actually a little bit older — like in their 30s to 60s," Buddy says. Many people who come in to HCH2 tried marijuana 20 or 30 years ago and want to get reacquainted with it.
The stigma still stands.
"Are people nervous when they come in?" I ask, since I had to reassure myself earlier that it was okay to enter HCH2's cheery yet conspicuous mustard yellow building. The side of the shop displays a medical caduceus, overlaying a green cross along with the claim, "Serving the Earth Since 2727 BC," so it's obvious, even to tourists blowing through town on Highway 9, exactly what your intentions are when entering. Perhaps to remind you that this shop is, indeed, legitimate, a large Colorado state flag stands near the front door.
"People come in here, and, like what I was saying, they haven't smoked in 10 or 20 years. They'll be 50-something and their kids are in their 30s and they're like: 'Well, we can't tell the kids.' I tell them, 'Don't be ashamed. Don't prolong this bad image of pot.'"
It's definitely a cultural stigma that still exists. Colorado law states that residents 21 and over with a government-issued ID can purchase up to an ounce of marijuana for recreational use (per day) from a licensed store and grow up to six plants for private use. Out-of-state customers are permitted to buy up to seven grams (per day). Despite all of this being completely legal, and that, according to an October 2013 Gallup poll, 58% of Americans approve of marijuana legalization, many people in the US still view using marijuana as taboo.
According to Eric, who's originally from Missouri, growing pot is the same as farming. "It's just another plant," he says. At the same time, Eric tells me he's been saved by the Lord Jesus Christ and maintains, "This is God's medicine to me."
No matter whose medicine or pleasure, pot requires strict labeling for recreational sales. Budtenders secure each plant with a bar-coded baby blue label, which is technically a radio-frequency identification (RFID) tag. The mandatory tags track and store electronic data about the plants (not the customer) that the retail shop and MED can access. MED refers to this system as the Marijuana Inventory Tracking Solution (mitsTM).
"The new inventory system is a challenge, but it's helping to tighten up everything," maintains Buddy. "It's forcing you to do good business."
Ultimately, "It's no big deal."
Good business is what the residents of Alma want, too. In fact, ever since Amendment 64 passed, community members, led by HCH2 owner Mark January, held regular town meetings to figure out how to manage the industry.
So far, even according to the Alma Police Department, it seems to be working well. The APD's town administrator (who did not want to be identified) hasn't noticed any problems. "We've just been treating [HCH2] like any other business in town," she says. "It's a retail business, and they're operating within the guidelines. It's no big deal."
Source link: https://matadornetwork.com/nights/learning-business-bud-americas-highest-incorporated-town/