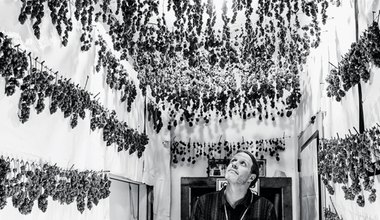 Smoke Screen
When recreational marijuana use became legal for anyone over 21 in Colorado last January 1, you would have thought the state was going up in smoke, such was the reaction. New Jersey governor Chris Christie went so far as to decry legalization as a bad idea that would destroy the quality of life in Colorado with "head shops popping up on every corner and people flying into your airport just to get high." And while tie-dyed advocates celebrated on the steps of the state capitol by lighting up joints, others, including destination visitors to some of the state's best-known resorts, seemed to agree with Christie.
One of the latter was Christine Arakelian, a New York resident who after hearing other skiers talk about their marijuana use at Vail, sent an outraged letter to the local newspaper that quickly went viral. "The people who live this type of lifestyle can't afford to support resorts like Vail that frankly cater to a demographic more like my own," she claimed, adding, "you can't be a destination resort for high-earners and a pot-town at the same time—you have to choose."
While some may argue that Arakelian's outrage was well placed (despite the continuing moratorium on recreational marijuana shops in the town of Vail), her public outburst and the emotional debate following it have done little to clarify the realities surrounding Colorado law and marijuana usage in ski towns.
There can be no doubt that marijuana is becoming less of a concern nationally. According to a recent Gallup poll, 58 percent of Americans support legalization. Currently 23 states allow marijuana for medical purposes and four, Colorado, Washington, Alaska, and Oregon have legalized weed for recreational use. The District of Columbia also passed an initiative that would allow adults to legally possess, use, and grow cannabis. However, the initiative has to jump through hoops before anything is set in stone.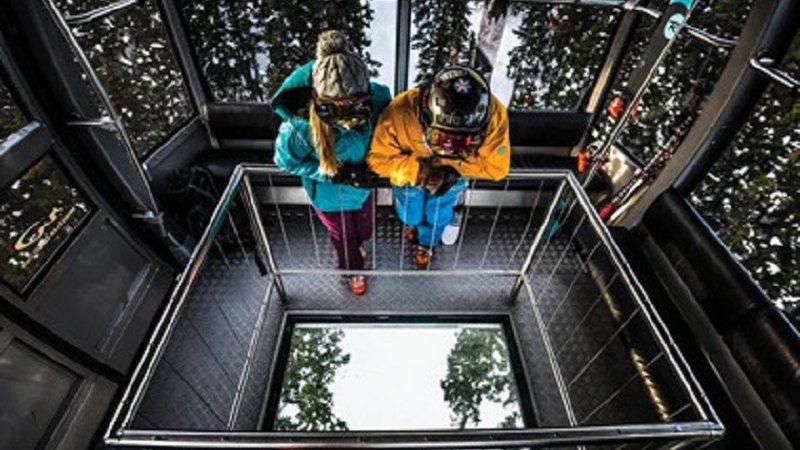 In Colorado, home to some of North America's most visited ski resorts, Proposition 64, which legalized the sale and consumption of recreational marijuana, was approved by 55 percent of the voters. But in many places, including the ski communities that dot the mountains, marijuana was already a non-issue. For example, 73 percent of voters in Breckenridge approved the decriminalization of recreational weed back in 2009. Legalization isn't everything, however, and the state laws that govern marijuana use in Colorado do not apply to much of the slopes.
Here's the rub: The vast majority of the state's skiable acreage is on public lands leased from federal land-management agencies, mostly the U.S. Forest Service. And on federal lands—in Colorado or anywhere else—marijuana remains illegal. State law also has restrictions on the use of recreational marijuana. In fact, it's pretty much illegal to smoke marijuana openly anywhere in any Colorado ski town, from the chairlift to main street to the pub and to the alley behind that pub.
Of course, it's also illegal to drink in public, and arrests, at least in Breckenridge, for open-container laws are about as common as smoking-in-public citations, which means they don't happen very often.
"We haven't had any drastic changes," says Colleen Goettelman, of the Breckenridge Police Department, adding that "I have only had two people call me and ask, 'Oh, can people do this?'—questions about the legal side of things."
Jeff Hanle, director of public relations for the Aspen Skiing Company, agrees that the effects of legalization have been minor.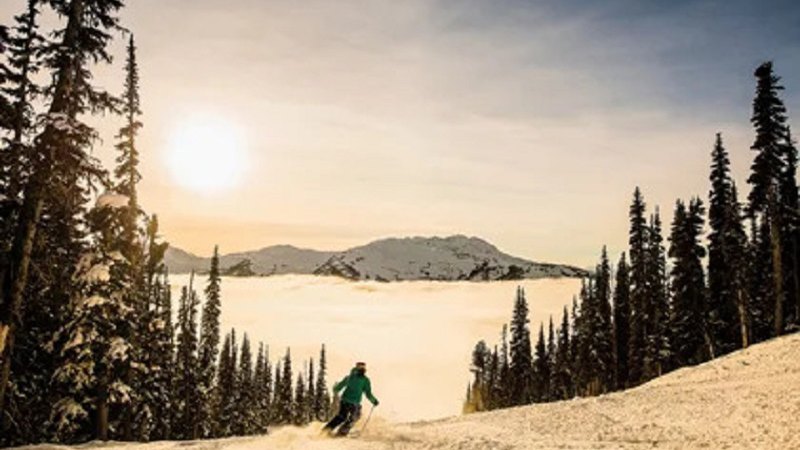 "We have not really seen any issues on-mountain," he says. "We have had a few instances where guests thought smoking outside was permitted simply because they didn't understand the law. We approach this as an educational issue and have had no pushback from guests at all."
Furthermore, adds Hanle, the Ski Company has seen "no instances of reckless skiing brought about by this that we are aware of."
The situation is much the same at Vail. "I did not see an increase in marijuana use on the mountain," says Vail's chief of police, Dwight Henninger, who has spent every Saturday up on Vail Mountain for the last 12 years. "There are a lot of folks who thought it might be more dangerous on the hill," he says, "but that is not the case."
He also is not troubled by the use of the drug in town.
"At the beginning of last season we had more smoking-in-public tickets," he says, chalking the increased violations up to the annual "freshman class" of transient ski bums and resort employees showing up for the season unaware of the nuances of the law. Even with this increase, Henninger says smoking-in-public violations are no more common than open-container violations. As in Breckenridge, the overall number is low, and the ones that do happen are often due to ignorance.
This makes Colorado sound pretty mellow, right, dude? Think again. Just like drinking and skiing, smoking marijuana and skiing in Colorado is governed by the Skier Safety Act. That law serves up penalties for skiing under the influence of anything, with fines up to $1,000, loss of skiing privileges, and the potential for lengthy jail time if an accident involving another person happens.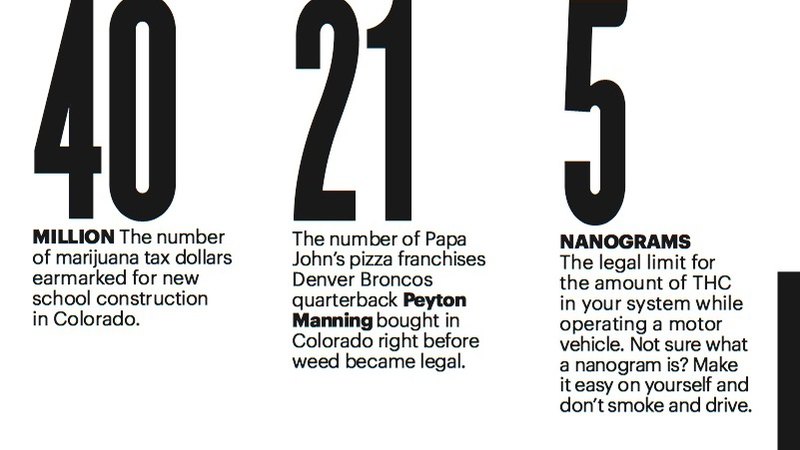 "It's very serious," says Henninger of skiing while high. "It's just not tolerated." In this regard, skiing is similar to getting behind the wheel. Colorado DUI laws consider driving under the influence of alcohol or drugs, including marijuana, a grave offense. If you're stoned and put your rental SUV into a ditch, you could be facing a year in jail, $1,000 in fines, 96 hours of community service, and a license suspension of nine months.
And Washington? Recreational sales of marijuana began there on July 8, 2014, meaning ski resorts such as Mt. Baker haven't had to deal with an influx of toking tourists as of press time. Furthermore, legal weed in Washington remains more difficult to procure, with fewer than 60 outlets selling the drug statewide compared to about 200 in Colorado.
That doesn't mean you won't be able to find marijuana. Nor does it mean you won't get in trouble for misusing it. Washington's legal system takes as dim a view of driving under the influence of marijuana as Colorado law, with penalties that include suspension of driving privileges for a minimum of 90 days.
Still, there's no doubt that at least a few of the millions of skiers who visit Colorado and Washington each year will avail themselves of a bit of legal weed this season. These users are limited to purchasing a quarter of an ounce at a time, versus one ounce for state residents; they must be 21; and, like booze shoppers, they must present photo IDs to make their purchases.
When they do, they'll be contributing to a business that raked in more than $3 million in tax revenues in Colorado in January 2014 alone, the first month recreational marijuana was legally available through retail outlets. This money is one reason why legalization is expected to provide a windfall over the next decade, with the state's department of revenue anticipating $40 million in additional taxes associated with retail marijuana sales for 2014 alone.
But remember, should you choose Colorado for your next ski trip based upon the latest après-ski party opportunity, you can't take your stash with you when you leave, and if you're heading home to a job or potential job with an employer that requires drug testing, traces of marijuana use can linger in your system for up to three months for heavy users.
That means marijuana can turn up not only in workplace drug tests but also in the urine and blood tests law enforcement uses back home during traffic stops where a DUI is suspected. Now that surprise could turn your Rocky Mountain high into a very, very bad trip indeed.
Tom Winter is a regular contributor to Skiing and currently oversees operations in the Americas for the Freeride World Tour. He is a member of the board of directors for the Mountain Rider Alliance and skis Italy more than most Americans.
Photos, from top: Liam Doran, Tom Daly, Liam Doran.
Source link: https://www.skimag.com/adventure/smoke-screen/